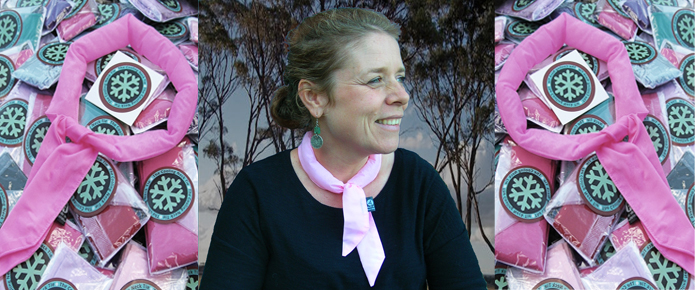 Q:
How does the Cooling Neck Tie work?
A:
Soak the Cooling Neck Tie in cool, clean water for 15 minutes. Remove excess water and wear for an instant cool relief! Store the Neck Tie in the fridge in an open container for easy access and immediate cooling satisfaction. Recharge it by soaking it again. Hang up after use to dry out. The crystals shrink with the water evaporating to a flat shape again in a few days. Store away only when completely dry. Every Cooling Neck Tie sold is accompanied by instructions and information on how to use it.
Q: Is the Cooling Neck Tie made in Australia?
A: Yes, the Cooling Neck Tie is fully made in Australia by The Australian Wheatbag Store, a company that contracts its sewing to a workshop that employs people with disabilities. The Australian Wheatbag Store is also proudly keeping all aspects of production in Australia and do not compromise on their high quality standards.
Q: Is it true I can buy the Cooling Neck Ties through your webstore but I don't have to pay postage?
A: Yes, that's correct! We will post you as many Cooling Neck Ties as you need, all postage free, anywhere in Australia. It's our way of saying thank you for shopping a great quality Australian made product from us.
Q: How is the Cooling Neck Tie different from a chilled wheatbag I can wear around my neck?
A: A frozen wheatbag is great, but it may start to feel heavy after a while. The cooling also doesn't last for as long as the Cooling Neck Tie does. The Tie also recharges faster than it takes to re-freeze a wheatbag. We think the both devices have their place in your life and aren't mutually exclusive.
Q: Can I use the Cooling Neck Tie for my hot flushes?
A: Yes, you can indeed. The Cooling Neck Tie is a popular choice amongst menopausal women. Many women who go through menopause suffer heat stress and can find it hard to function well at work or at home due to the flushes. Tying a Cooling Neck Tie that looks like a neat scarf around your neck can really help you keep your cool when it matters. Use the Neck Tie for the night sweats.
Q: Is the crystal filling poisonous?
A: No, the water retaining polymer crystals are safe for anyone to use and not poisonous.
Q: Are the Cooling Neck Ties safe for children?
A: Yes, they are. The Cooling Neck Tie is non toxic and helps kids stay cool as well as adults. Their smaller bodies are even more sensitive to heat variations than adults. Just remind the children that the Cooling Neck Tie is not a toy and can break or burst if treated roughly. Perfect for them to use at sports as well!
Q: Can I use the Cooling Neck Tie for my dog or other pets?
A: Yes you can. It works just as well on pets as on humans. Animals don't sweat like we do so it can be really beneficial to your pet to cool it down on a hot day. Just watch your pet soit doesn't start to play with the Cooling Neck Tie or eat it. The Neck Tie is not a toy and the crystals could come out if your pet bites a hole in it.
Q: What happens if I freeze the Neck Tie, which you do not recommend?
A: You can freeze the Cooling Neck Tie. Just remember to shape it first as it freezes into a solid shape and could break when you try to adjust it around your neck! We just think it's not necessary to freeze it as it cools you really well straight from the fridge and you don't risk breaking it.
Q: What happens if I leave the Neck Tie in water longer than 15 minutes?
A: We advise you don't do it. The crystals inside the Neck Tie will continue to expand and will eventually start seeping through the fabric and leave a slippery film on the outside. If this occurs, stop soaking it and wipe the Cooling Neck Tie off with a towel. Remember to only soak for about 15 minutes.
Q: How long does The Cooling Neck Tie last?
A: The Neck Tie's cooling capacity is easily a whole day and night, so 24 hours. It will only start to become dehydrated after 24 hours of use. You can then soak it again to rehydrate, try 5 minutes this time.
Q: How long does it take before it dries out?
A: We recommend you hand you Cooling Neck Tie on the washing line under cover. It will take around 2 days before the crystals inside have shrunk back to a dry state again. Only store away when completely dry.
Q: Can I heat my Cooling Neck Tie?
A: Yes, you can. Either use hot water to soak it in or place it in the microwave oven for 10-20 seconds. Be conservative with the heating times as every microwave varies in power.
Q: Can I use my Cooling Neck Tie at work?
A: Yes, we think it's a really good idea to try to stay cool at work. We spend most of our waking hours working so where better to stay cool? Just check with you Occupational Health and Safety representative if you work near machinery with moving parts etc. We strongly recommend you turn the ties to the back of your neck to avoid any accidents where the ties could become stuck into a machine.
Q: What colours do they come in?
A: Currently we have nine different happy and easy to match colours to choose from. We may expand the range into spots and stripes for those who want to make more of a fashion statement with their Cooling neck Ties. We want you to look as cool as the Cooling Neck Tie makes you feel! Keep checking the webstore for colour/pattern options!
Q: Can I take the Cooling Neck Tie overseas and then back in to Australia again?
A: Yes, you can. Contrary to wheatbags or any other product that relies on grains, not only does the Cooling Neck Tie not take up any space or weight in your luggage, quarantine regulations do not apply to the crystals or gel inside the Neck Tie. Additionally they are so lightweight and portable you are going to love travelling through hot countries with them!
Q: How is it possible the Neck Ties cool you if the crystals just hold normal tap water at tap water temperature?
A: The Cooling Neck Tie cools you by being wet on your skin. Your body tries hard to make the water evaporate, hence using up all excess heat in your body in this process. It's a very clever way of optimising the body's own cooling system.
Q: Does the Cooling Neck Tie cool you the same way as when you wear a wet towel around your neck?
A: Yes, it does. The Cooling Neck Tie will cool you for a lot longer though, as it doesn't dry out as quickly as your wet towel does.
Q: How do I store the Cooling Neck Tie when I don't need it?
A: Place the Neck Tie in an open container in the fridge for easy access to cooling relief. When the hot season is over just place it in a cool, dry place; a cupboard indoors would be perfect. Make sure it's completely dried out before you stow it away though (try 2 days on an undercover clothesline)
Q: Can I use the Cooling Neck Tie when I go cycling?
A: The Cooling Neck Tie was made for both active and passive people – for those out cycling, exercising etc or for those preferring to watch sports or just remain seated. The Neck Ties are equally perfect for anyone who is overheating, regardless of energy output. If the Cooling Neck Tie gets dirty simply hand wash with a mild soap and rinse thoroughly.
Q: How many times can I use my Cooling Neck Tie?
A: We estimate your Cooling Neck Tie will last about 5-6 years of average use.
Q: How can I clean the Cooling Necktie?
A: Hand wash with a small amount of mild soap and rinse thoroughly. Do not wash in the washing machine.
Q: What is it made from?
A: The fabric is strong, great quality cotton or poly-cotton and contains water retaining gel crystals.
Q: How can I be sure I am buying a great quality product?
A: We can assure you you are! However we have a 100% satisfaction guarantee with all the Cooling Neck Ties. Just contact us with any questions or if you are dissatisfied with any of our products and we are more than happy to replace them or refund you your money, whichever you prefer. Guaranteed 100%.